Resources - Concept Mapping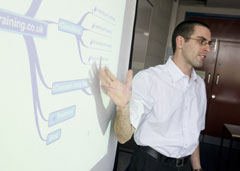 Dave Foord has become one of the leading figures nationally with regards the use of concept mapping software educationally. A lot of people are comfortable with the ideologies and uses of paper based concept maps, and many will use concept mapping software to create electronic versions of these documents. Dave has taken the principles further and looked at the potential that these tools have beyond just producing an attractive map.
The following link is a brief presentation showing some of the ways that concept mapping software (in this case Mind Genius) can be used educationally - the resource may take a couple of minutes to load, and has sound so speakers or headphones are required.
The uses of Mind Genius (and other concept mapping software)